So I started with a lump of clay, lovely muddy pliable stuff, and I created the shape that you see above.  It was only the size of your fist – but imagine if it was ten foot tall, or even twenty!
I liked it so I photographed it and then, I squashed it and made another shape, and then another…
That's what I was doing for a while, trying to create something new.  But what I was missing was the colour, the joy of colour.  Clay is a wonderfully expressive material but… well it's just grey, isn't it. So I added colour to it using Photoshop.  Now, I can't say if this was a sculpture, a photograph, a photoshop document or… a piece of art even (but I like it!).
Of course, it's just a lump of clay again now, but it had started with the idea of hands covering a face and I even gave it a title: Brón (Sorrow).
I was reminded again of my muddy endeavours last week when I was watching the live streaming of the opening of SITZFLEISCH.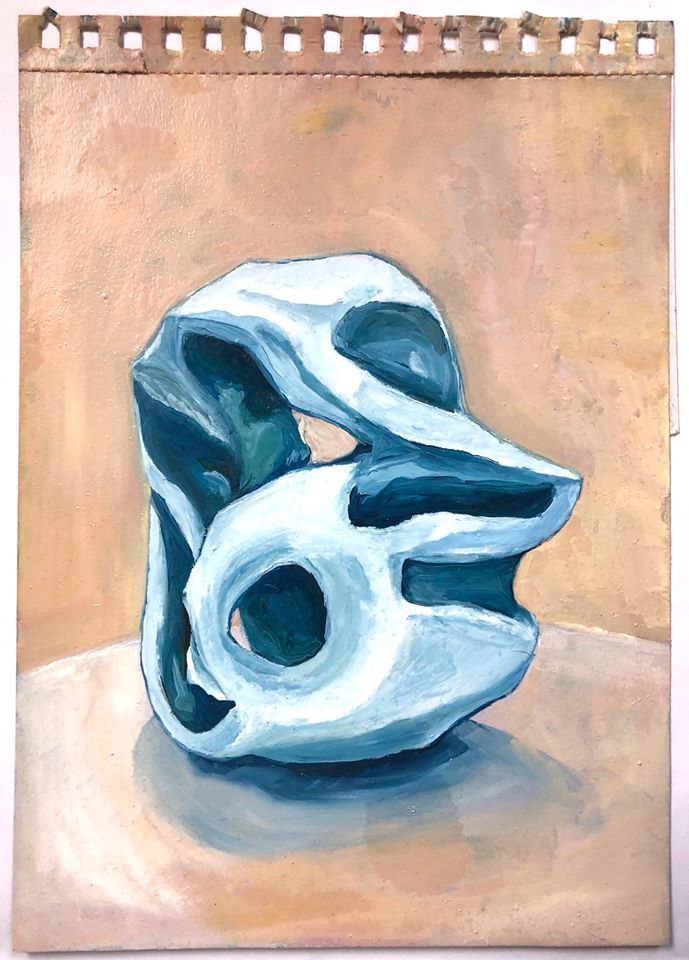 SITZFLEISCH is a virtual art exhibition of the work of Susanne Wawra at the Olivier Cornet Gallery.  It's a virtual event of course, because of the COVID 19 restrictions but in a way, it was even better than a physical event because we were privy to a long and absorbing conversation between Olivier Cornet and the artist.
This would never have been possible at a physical reception when the host has to spend a little time with everyone.  By the way, there'll be a further instalment of this online conversation tonight (Thursday 28th).
Below is a short clip from the first conversation, when Susanne recites a poem entitled: "Plenty".  It's a bit jumpy at the start but it quickly settles.  The poem offers a beautiful insight into the creative process of the artist.
In fact, you can see a virtual tour of the whole exhibition by going to the Olivier Cornet Gallery website.  You can simply click on a link there to wander around a 3D virtual gallery and zoom in close to view the various artworks.
Soon, you'll be seeing this latest technology from all the galleries, I suppose.  When the pandemic is over, however, I imagine people will want to see the real thing again.  Won't there always be some people who like getting their hands dirty?
Ah, the joy of mud!  What do you think?
https://www.oliviercornetgallery.com/